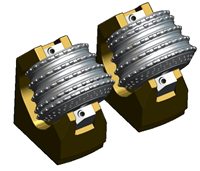 Zeus ZS Series (360mm gage diameter)
PDB Tools offers a series of larger cutters to meet the requirements of many different heads. The Raisebore industry has several existing heads, which utilize different saddles and variable mounting methods. Including our own specific saddle and mounting system, we also provide roller cutters that will fit many other heads and saddles currently in use. This gives our customers the option to use better and more cost effective roller cutters without the need to invest in new heads and saddles.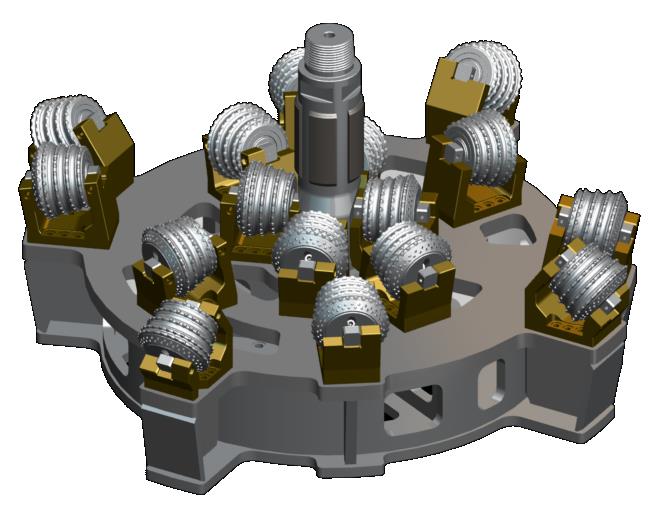 Roller Cutter Positioning
The Zeus and Apollo series of cutters are similar in design. PDB Tools Engineers have standardized the configuration to meet individual customer requirements. In doing so, slight changes to cutter positions are needed to compensate for different head and saddle configurations. Our Engineers will assist our customers in cutter placements when required. The CAD system (3D modeling system) makes design and positioning alterations quick and simple. We can generate head layouts and visually inspect for any required cutter placement changes.
Head and Stem Designs
PDB Tools has expanded our capabilities to include the design of heads, stems, and saddles. We can offer designs for several types of heads and stems, utilizing our roller cutters and saddles. PDB Tools Engineers can design a complete head system for any raisebore application. PDB Tools can also manufacture a complete cost effective tool for your raisebore requirements.