The PDB Tools mining TCI Tricone – GX Series bit is utilized for blasting hole open pit mining. Depending on the different formations of customers, we can offer different product with IADC from 40 to 80 types. Available sizes range from 6 3/4″ to 13 3/4″.
Through extensive ongoing Research & Development programs, PDB Tools incorporates the latest in materials, manufacturing processes, and engineering innovation to continually refine and improve our product line.
To increase the bit service life and the reliability, premium bearing designs of our bits have the best bearing configuration to maximize the bearing capacity.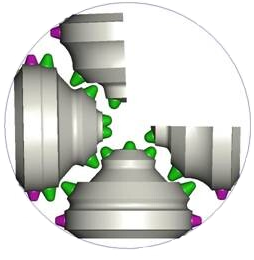 Depending on different formation, specially selected carbide grade with the premium cutting structure designs balanced the load taking of the bits, insure the customers will have the best penetration rate in different applications.
Our products also can be customized to meet different customer requirements and applications.
TCI, Roller-Ball-Roller Bearings, Jet Air Flow
SERIES
APPLICATION
OPERATING PARAMETERS
Rotating Speed (RPM)
Weight on Bit (lb/in)

GX40

Soft
70-140
1000 to 4000

GX50

Soft to Medium
50-140
2000 to 5000

GX60

Medium to Hard
50-110
3000 to 6000

GX70

Hard
50-90
3500 to 7500

GX80

Extremely Hard
40-80
5000 to 8000
Available Sizes
SIZE
PRODUCT CODE
APPLICATION
PIN SIZE
SPECS
in
mm
6 3/4
171
GX542
Soft to Medium
3 1/2
GX612
Medium
3 1/2
GX712
Hard
3 1/2
7 7/8
200
GX432
Soft
4 1/2
GX542
Soft to Medium
4 1/2
GX612
Medium
4 1/2
GX712
Hard
4 1/2
8 3/4
222
GX632
Medium to Hard
4 1/2
9
229
GX432
Soft
4 1/2
GX542
Soft to Medium
4 1/2
GX642
Medium to Hard
4 1/2
9 7/8
251
GX432
Soft
6 5/8
GX532
Soft to Medium
6 5/8
GX712
Hard
6 5/8
GX742
Hard
6 5/8
10 5/8
270
GX432
Soft
6 5/8
GX532
Soft to Medium
6 5/8
GX632
Medium to Hard
6 5/8
GX712
Hard
6 5/8
GX722
Hard
6 5/8
11
279
GX532
Soft to Medium
6 5/8
GX642
Medium to Hard
6 5/8
12 1/4
311
GX532
Soft to Medium
6 5/8
BECO
GX642
Medium to Hard
6 5/8
BECO
GX722
Hard
6 5/8
13 3/4
350
GX532
Soft to Medium
6 5/8