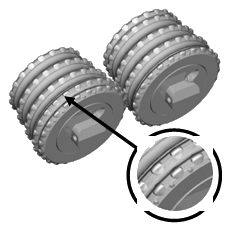 PDB Tools' raiseboring roller cutters, Apollo G and N Roller Cutters, can be used in a wide range of reaming heads, varying in size from 0.6 to 6 meters in diameter. Designed for optimum performance in any type of rock formation, the roller cutters are easily adapted to different rock conditions by re-arranging cutter position and placement. The affect is to change the spacing between the rows of tungsten-carbide inserts that break the rock. To enable row spacing to be varied, the Apollo G and N Roller Cutters, can be used in variable combinations on any one reaming head. Placing one or the other type in different positions on the head, gives 25mm narrow row spacing. Softer rock formations may require only the G or N to achieve 50mm row spacing.
The unique cutting structure and cone steel profile ensures long service live and the highest possible penetration rate. Special double rows of inserts at gage and nose deliver enhanced performance in hard and abrasive rock. Large diameter, wing tip, smooth radius, carbide inserts create a tough insert profile allowing the roller cutters to drill in difficult conditions and helps to prevent premature failure. Round top, bevel inserts between gage and nose row inserts, reduce cone shell erosion when drilling in abrasive conditions.

Large journal bearings and maximized bearing configurations enable each roller cutter to withstand an extremely high load. The bearing is a roller-ball-roller configuration, consisting of large diameter rollers and balls. The bearing system contains a unique retaining pin. The roller cutters utilize proprietary mechanical face seals and lubricating oil. The mechanical face seals are pre-loaded and vacuum tested to ensure seal effectiveness. The lubricating oil contains special additives for high temperature applications.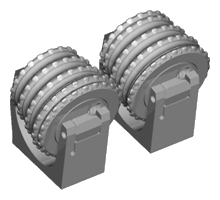 The roller cutters are designed for a specific saddle system. The journal ends of the roller cutters can be modified to be used in any saddle configuration with similar size. The roller cutters are based on standard components, which contribute greatly to their flexibility and high availability. The roller cutters can be used on heads with flat cutting profiles or with variable profiles, and will rotate smoothly and with optimum thrust utilization. Designed for optimum performance in any type of project, the equipment can be built to customers' specifications.